Trend Trading Stocks – How We Do It
When trend trading stocks, the principles of our strategy are pretty straightforward.
Find a top growth stock in a great long-term trend.  We focus on the ones that have been trading for over a year.
Look for a narrow and well-formed consolidation.  Generally, the longer consolidations are better.
Wait for a great catalyst and enter the trade at a good technical entry point in the consolidation pattern.
 Use a great exit strategy to take profits while using a tight stop-loss.
ROKU checked off all the items on our list after we featured it on May 6th in the Weekly Alert and mentioned it again in the Daily Alert later in the week after earnings.  In fact, it was breaking out of more than one of our most bullish chart patterns.
ROKU quickly reached the technical entry point and soared nearly 20% within 24 hours from the entry point which was the break of the pre-market high as we discussed on Monday before the big move.  We used our high, tight flag strategy to qualify the trade and time our entry/exits.
Despite a sharp market pullback, ROKU held the higher levels and continued to move higher unlike risky stocks under $10.
This is because you have not only retail traders trading the stock but large fund managers buying the stock for a long-term hold as well.  And their buying demand was immense.
ROKU was breaking out of multiple technical patterns on different time-frames.  One of the key things to look for when trying to find an exceptional trading opportunity.
We want day traders, swing traders and investors all piling in.  Especially, institutional money acquiring shares so its not just a pump and dump.
The price level and long-term trend are key to avoid the pump and dumps.
ROKU was breaking out of a large double bottom pattern within the flag portion of a high, tight flag pattern.  Here is what the chart looked like ahead of the big move when we featured it to clients.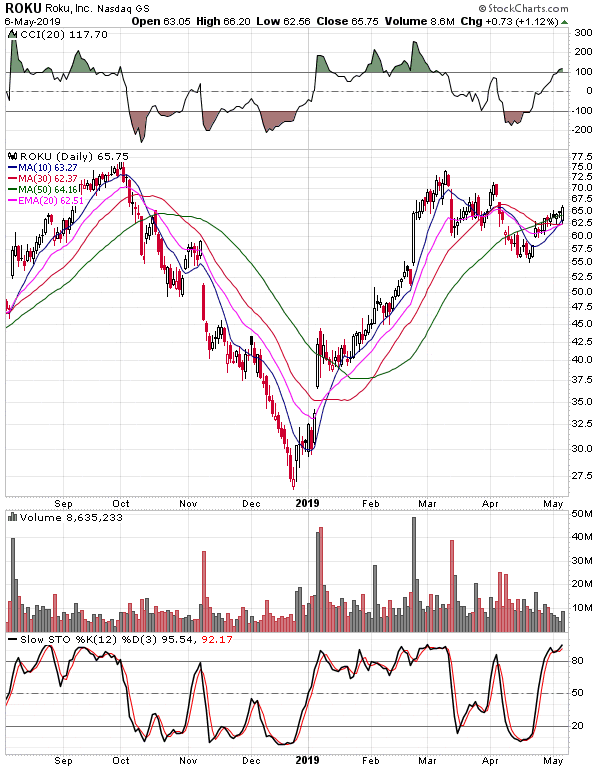 You can see the very strong trend leading into the high, tight flag pattern.  The flag consolidation meets our criteria and also includes a large double bottom where the second low takes out the first low which is ideal.
Volume was very strong as the stock was breaking out of the double bottom and high tight flag as well.  Also, the large gap after earnings were attracting day traders and short-term swing traders.
In addition, ROKU has very strong, consistent growth in sales.  It also has recent accelerating growth of over 50% while losses are narrowing with a large potential runway for growth in the years ahead.
Meanwhile, margins are substantially improving.  Here is what can happen after a great trend develops with a long, narrow consolidation and another big catalyst:
One of the other factors we look for is how well the stock performs out of the best swing trading and day trading technical patterns and events.  We published a video on our Youtube channel over a year ago about another great trade we took on ROKU right after earnings.
In addition, we had another very profitable trade on it earlier this year that we mentioned ahead of time in the Daily Alert service.  As with the other trades, ROKU had another clean breakout without pulling back a lot like you often see on a more recent IPO or lower priced stocks.
It was easy to confidently take a large position on this given the strength of the trend trading pattern, breakout and news.
Some people will use MACD or other indicators to time their entry.  However, ROKU had multiple MACD buy signals before the price fell a lot further in 2018.
We look at the height and shape of the pattern along with the long-term trend which can visually be analyzed in seconds once you have enough experience.
The strength of the fundamental event is very important along with the size of the gap which indicators will not really help with.
Hopefully, this will give you a taste of what waiting for the right trade looks like while trend trading.  Most traders will make more just trading these kind of opportunities a few times per month versus poorer quality opportunities that come up every day.
See our Top Trend Trading Opportunities We are Eyeing for Our Own Accounts this week